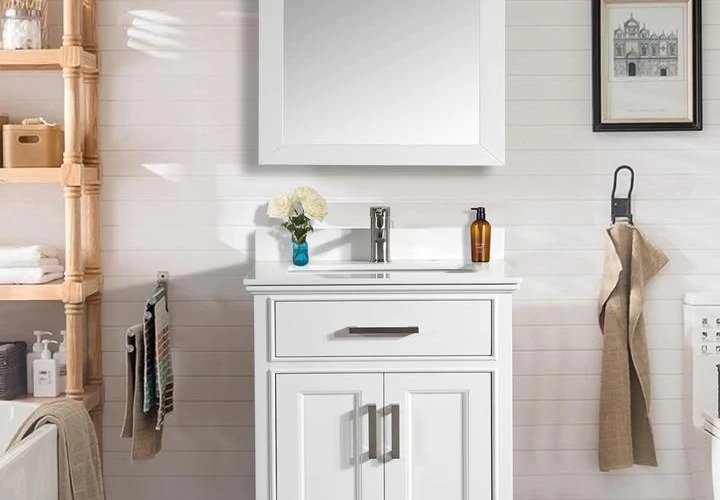 Powder Room Vanity and Fixture Trends
Although most people consider kitchens to be the heart of their home, bathrooms are surely the muscle! After all, that's the only room in a house that can double as a dog wash and a powder room.
Making your bathroom space one of your best rooms in your house has much to do with style and its function. As you work to make a fashionable and functional bathroom, take time to learn about the latest bathroom trends.
Choosing the perfect powder room vanity comes with various benefits. Not only can it revamp your space without needing a complete remodel, but it can also provide you extra storage space to keep clutter away when entertaining guests. 
Below are some of the best tips for how to pick out a new bathroom vanity for just about any bathroom size. 
Picking the right-sized vanity for your powder room
Small bathrooms have storage, decorating, and design challenges. It is best to choose a vanity for your powder room that suits your style. Find the right vanity for your powder room to overcome the challenges and create a stylish space that's perfect for you. Even though there's barely a right or wrong choice, some features and aesthetics will be right for your space. 
For compact powder room spaces, we recommend a wall hung vanity, which has shorter depth, and frees up your floor space. A favourite of ours is the Bliss 24" Wall Mount Vanity by Kube Bath.
Some things you need to consider include:
You need to first understand how the vanity will be used in the available space before making a purchase. A master bathroom for instance will have different needs from a guest bathroom. That also goes for the powder room. 
It's best to know what the vanity will be used for. This will help you determine the materials to use, the storage space, and the number of sinks to install.
Bathify recommends the Paris 30" Vanity by Vanity Art as a good powder room option. This vanity features two doors, which allow for ample storage space on the inside for storing your bathroom necessities.
Ensure that you select a durable material for your powder room vanity. Ideally, the material should require little or low maintenance, particularly if you intend to use it every day. 
In this instance, engineered stones and veneers are great options. Apart from this, if the vanity will be close to a frequently used shower, use materials that are water and humidity resistant.
Several vanity styles are pervading the bathroom furniture market. From traditional makes to savvy, spa-like structures - there are endless varieties of styles, sizes, cost range, and materials for vanities. 
Some styles you can choose from include vessel, pedestal, wall-mounted, floor-mounted, and corner. But remember that not all will be suited for all bathrooms. It mostly depends on the size of the bathroom.
If you are going for a modern look, we recommend the Cisco collection of vanities by Kube Bath. Available in Chrome and Matte Black, they offer a chic industrial look that will be sure to make your bathroom look on trend.
Picking the right colour combinations: 
You can easily give your bathroom a new look with just a gallon or two of paint and a few hours of work. The most difficult part of the process is deciding the colour scheme to use. There's no one method for selecting the best bathroom colour combinations; and with endless possible combinations, the decision can be overwhelming. 
Neutral colours like beige, cream, and taupe have long been popular colour choices for the bathroom because they wear well and easily fit into any design. However, bolder palettes that create a cheerful environment are replacing these safe colours. 
Although bold is considered beautiful, that's not necessarily the case for everyone. Color is vital in creating different moods, so you should create various palettes for different lifestyles and looks.
If you don't like the idea of having colour everywhere in your bathroom, add small doses in cheerful colours like fire-engine red or sunny yellow to give your bathroom a unique look.
Those that enjoy frequently changing colours, for instance, according to seasons, should consider rotating accessories. You can easily add a touch of updated colour with rugs, towels, and other accessories.
If you are looking to go for a luxe colour combination, try out the Regal collection by Cutler Bath. With its gold toned hardware, it adds a touch of shine to your space. Pair it with a gold sink faucet to complete the look.
Matching paint colours with vanity sets:
Most homeowners consider the master bathroom to be their sanctuary – their personal space where they can relax and have some time for themselves. If you're considering remodelling your bathroom or you want to make minor changes, the bathroom vanity is one of the places that can make a huge difference – both for functionality and decor.
As you paint your bathroom, ensure that it matches your vanity sets. This can seem complicated because you're not only selecting one colour; you need to create a palette for space, which includes accent colours for furniture and accessories. 
Bathify offers a wide range of colour palettes for your product selections. From bold navy blue, to subtle shades of grey, you will be able to find something that matches colour palette you have envisioned for your space.
Choosing the right tiles and lighting for powder rooms:
Although it is considered the smallest room in the house, this room can still have a huge creative impact.
Selecting the right tiles for your powder room - whether for walls or floors - can be tricky. Don't let your bathroom size determine your tile size. When you have fewer grout lines, the walls and floor will appear less cluttered and the room visually expanded. Smaller tiles give a lot of grout lines, which can give the bathroom walls a grid-like look and promote the feeling of being boxed in, thereby making your bathroom feel smaller.
However, this doesn't mean you have to rule out small tiles. If you've fallen for some beautiful mosaics, you can combine them up a bit by using different sizes in different areas of the bathroom, with smaller tiles used in the showering area and larger ones used in the majority of the room.
The powder room provides an opportunity for homeowners to get creative with their lighting. Since this area is not always used for grooming, the lighting can be made dramatic. Put decorative wall sconces on both sides of the mirror. Also, provide light for artwork. For applying make-up, shaving, and styling hair, the best light should be even and shadow-free.