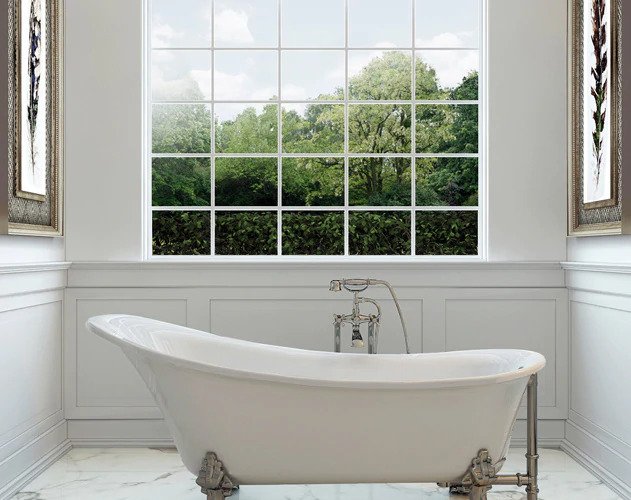 Tips On Selecting Your Freestanding Bathtub
In the mood for a spa-like pamper evening in a hot bubble bath? Heck, who wouldn't be! It's the perfect way to unwind after a long day—and nothing does it better than a freestanding bathtub. But we're sure you already know all this—which is why you're browsing through this article.
Finding the right bathtub is important for functional and aesthetic reasons. You want to feel like you're floating on a cloud of bubbles—but you must also ensure it fits seamlessly with your bathroom décor, piping system, and bathroom size.
Here are the most important tips for selecting a freestanding bathtub that will help turn your bathroom into a spa-like sanctuary.
Style

If you've been on an expedition to find the best freestanding bathtubs, then you're likely aware that they come in all designs. From sleek, modern, to traditional styles—and everything in between. But since a bathtub can dictate the aesthetic of your entire bathroom, it's best to be cautious with what you buy.
Modern: A modern freestanding tub is typically sleek, ergonomic, and aesthetically appealing. It's dashing yet minimal appearance tends to uplift the aura of the space. This style is great if you want to create a different dimension or textural contrast to your bathroom. We suggest our Obliquo 67'' White Free Standing Bathtub (KFST1667) by Kube Bath if you are looking for a modern look. With its sleek angular look, it will help transform your space into a contemporary oasis. 
Traditional Clawfoot: Mention something more iconic than a traditional clawfoot bathtub. It oozes a level of sophistication and elegance that befits royalty. This is what you install if you want an instant showstopper sitting in your bathroom. We suggest our York 69" Acrylic Clawfoot Freestanding Bathtub (VA6310-L) by Vanity Art. The clawfoot design is a tried and true classic design, with the chrome accents on the feet adding a touch of shine. 
Transitional: Looking for a freestanding tub that's not overly contemporary or too sleek? Something that falls somewhere in-between? A tub that is designed for comfort and adding a warm aura to your bathroom? If so, you'll love a transitional style. We suggest our Elora 67.5" Acrylic Freestanding Bathtub (VA6513) by Vanity Art. It leans towards both modern and traditional styles, so it will fit in with any style of bathroom decor you choose to go with. 
Colour
Colour is an important, yet often overlooked feature when shopping for a bathtub. But as any competent interior designer will insist, how you blend the colours could make or break any space. The colour palette, tone, and texture basically set the mood of the bathroom.
Here are some ideas to give you an idea of how to about choosing a colour for your freestanding bathtub:
White and Classic: If you're into a classic or transitional style, a clean and crisp white colour brings much-needed warmth to a space. It's a no-fail colour that has stood the test of time. We suggest our Contemporanea 59'' White Free Standing Bathtub (KFST2159) by Kube Bath. It features a pure white acrylic finish that will be sure to brighten up your space. 
Black: Looking to bring life to a traditionally white bathroom? Take a trip to the 'dark side' with an intense black hue. It adds a dose of drama and clean elegance. We suggest our Alto 67.7" Acrylic Freestanding Bathtub Black (VA6812-BL) by Vanity Art. The stunning black finish on this tub will add a bold statement to your space. Pair it with a freestanding black bathtub filler, such as our Aqua Squadra Floor Mounted Tub Faucet AFT001-BK by Kube Bath, to complete the look.
Red or Peachy Pink: A dash of pretty, a touch of glam, and a hint of playfulness—it's that simple! We suggest our York 69" Acrylic Clawfoot Freestanding Bathtub in Red (VA6311-RL) by Vanity Art. The gorgeous red tone on this clawfoot tub is sure to be a show-stopping focal point of your renovation. 
Size

The general rule of thumb is to install a freestanding bathtub as the centrepiece of your bathroom. This means that the bathroom should be spacious enough to leave space on either side.
The best size comes down to your preference, budget, and the design of the house (available space, plumbing, doorways, floor, etc.). And please pay keen attention to the weight of the bathtub! You don't want to take a short trip downstairs in the middle of your meditative soak.
If space is not a hindrance, you can get a wider/larger bathtub to really 'kick back and relax' (PS: This is best placed at the centre of the bathroom). But there are also compact options for smaller bathrooms—which may require you to give up on the shower or settle for a shower-tub combo. 
Bathify offers a wide range of sizes in our freestanding tubs, sure to accommodate any type of space you are working with. We carry 59" models such as our Ovale 59'' White Freestanding Bathtub (KFST1459) by Kube Bath, perfect for those with compact spaces that still want to incorporate a freestanding bathtub into their design. For those with larger paces, we recommend our Ella 71" Acrylic Freestanding Bathtub (VA6517) by Vanity Art. With its extra long length, It is sure to provide more than enough space for you to fully relax while bathing in your freestanding bathtub.
Drain Position
When it comes to home décor, all details matter—and the tub is not an exception. Even something as seemingly minor as the drain position could affect the overall aesthetic and functionality of your bathroom. With this in mind, below are the freestanding bathtub drain position options:
Side Drain: This refers to a left-handed or right-handed drain orientation—i.e., an end-drain. The advantage of this drain placement is that it allows for a more comfortable experience with the drain positioned at the feet. But this can also be a shortcoming due to the possibility of accidentally unplugging the tub. We suggest our Solato 67" Freestanding Bathtub (KFST7867) by Kube Bath. This model features an end or side drain, allowing you to work around existing plumbing. It also gives you the option of placing your bathtub filler at the end of the bathtub, giving you ample space to relax on the other side without any obstructions.                                                            
Centre Drain: As the name suggests, a centred drain is positioned at the centre. This is great for big tubs that can accommodate two people for a romantic time. Neither of you has to sit on the drain. It also means that you can face any direction you please while alone.  We suggest our Palma 59" Acrylic Freestanding Bathtub (VA6815) by Vanity Art. The centre drain allows you to sit on either of the bathtub, as well as allows you to place your tub filler in the centre of your bathtub. This provides a beautiful symmetrical look that will help to enhance the design of your space. 
No matter what size or style you are looking for, there is surely a freestanding bathtub that will work. Bathify carries a wide range of freestanding bathtubs available in all sizes, styles, and price points. Browse our selection today to help kickstart the bathroom of your dreams!