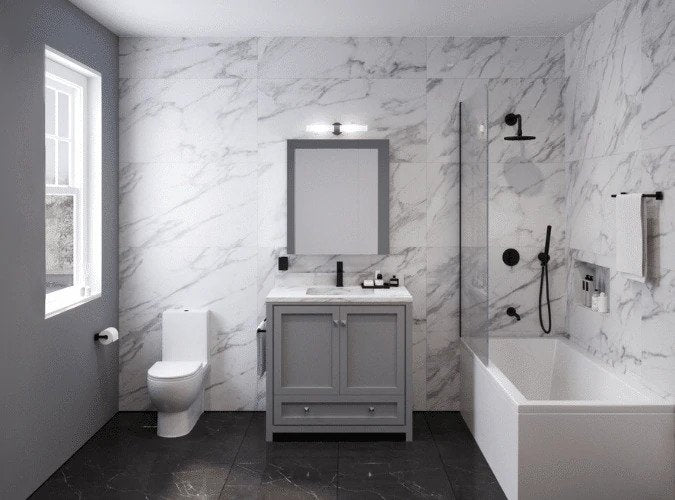 Budget-Friendly Bathroom Renovations: A Guide to Keeping Costs Low
Smart Strategies for Affordable Bathroom Upgrades: A Guide to Managing Costs
So, you're looking to revamp your bathroom without breaking the bank. The good news is, that you don't need to empty your wallet to transform your bathroom into a serene and stylish space. With a little creativity and careful planning, you can achieve a budget-friendly bathroom renovation that leaves you delighted. There are myriad ways to give your bathroom a makeover without overspending.
Statistics suggest that the average bathroom remodel costs around $10,500, while a high-end renovation could set you back around $26,000. However, if you're willing to roll up your sleeves and unleash your creativity, you can complete a bathroom renovation for as low as $1,000 or even less, depending on your project scope.
To kickstart your renovation journey, it's crucial to establish your budget. Your budget will dictate the extent of changes you can undertake. For those with a tighter budget (under $1,000), focus on cosmetic upgrades like a new sink, fresh paint, or updated fixtures. With a more substantial budget, you can tackle more extensive changes such as replacing tiles, upgrading the shower, or even altering the layout. Your budget will be your guiding star.
Revamping on a Budget: Top Tips
Window Treatments and Shower Doors
Enhance your bathroom's aesthetic by opting for new window treatments and swapping outdated shower curtains for modern shower doors. These changes offer a cost-effective visual uplift.
Tackling Repairs and Updates
Take on repairs and updates that have a significant impact without breaking the bank. Address issues like molding and drywall, and consider swapping old tiles for a fresh look.
Fresh Paint and Fixture Updates
A fresh coat of paint can work wonders in revitalizing your bathroom. Don't underestimate the power of updated fixtures, such as mirrors, faucets, towel bars, and cabinets, in elevating your space.
The Vanity: Finding the Right Fit
Selecting the perfect bathroom vanity is pivotal as it serves as a central piece that holds your sink and provides storage. Consider the size and design of your vanity to match your space and style.
Vanity Material Matters
Pay attention to the materials used in your vanity's construction. Choose wisely for the top and base, selecting options like granite, marble, quartz, glass, plywood, or solid wood, depending on your preferences and budget.
Reuse vs. Replace Dilemma
When remodeling, determine whether to reuse existing items or opt for replacements. Balancing pros, cons, and your budget will guide your decision-making process.
 Crafting a Practical Budget Plan
Embarking on a bathroom remodel requires a well-structured budget plan. Outline your changes, prioritize essential updates, and remain realistic about your budget's limits. It's essential not to let your bathroom renovation overshadow other home improvement projects.
Smart Accessory Swaps
Refresh your bathroom's look by swapping out accessories. Retain and refurbish where possible, and consider wallet-friendly alternatives that mimic the appearance of more expensive materials.
Paint and Tile Revival
Achieve an impactful transformation by focusing on paint and tile. Play with tile placement by concentrating on high-impact areas and exploring fresh paint colors that can breathe new life into your space.
Conclusion
Achieving a budget-friendly bathroom renovation is well within your reach. Often, bathroom remodeling seems financially daunting, causing homeowners stress. Yet, thinking creatively and considering economical alternatives can yield splendid results. Beyond the aesthetic enhancement, a budget-friendly renovation can lead to substantial cost savings, giving you both a rejuvenated bathroom and a healthier bank account.