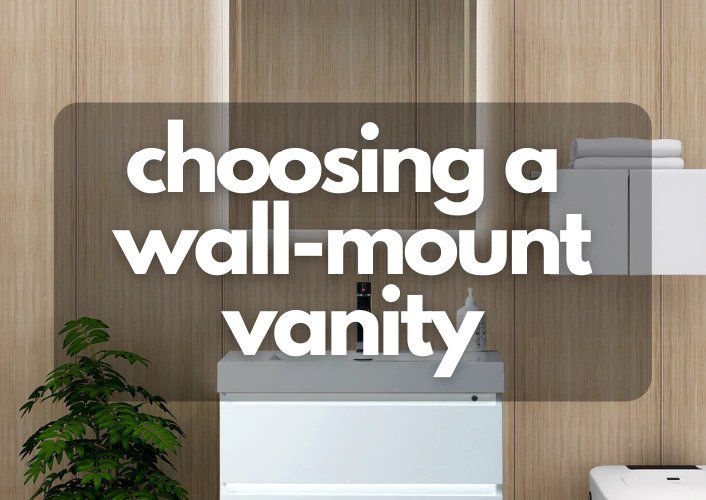 How to Pick your Wall-mount Bathroom Vanity
Since bathrooms are usually smaller in size, you should make the most of every change you make. This includes your wall-mount vanity. A modern vanity can easily become the main attraction of your bathroom, which means that you should get it right the first time.
Wall-mount bathroom vanities are essential for every modern home. They look both practical and attractive, mostly acting as the central piece of the bathroom. You need to choose a design and style that perfectly complements your bathroom and the rest of your home.
However, it can be overwhelming selecting a bathroom vanity that not only appears good but also checks everything off your list of needs. You can either decide to follow the trends or strike out on your own. Between size, design, and price, there are different kinds of bathroom vanities today; this makes it difficult to tell when you've gotten the perfect one.
Tips to help your choice of a wall-mount bathroom vanity
To help you make the right decision, we've put together this detailed guide to selecting your new bathroom vanity.
Drawer space
You need to determine how big your vanity can be without disrupting your movement around the bathroom. Most times, vanities are a minimum of 24 inches wide and 21 inches deep, but some brands may have smaller models and you always have an option of a custom unit. Some retailers have models of up to 80 inches in width. Here are Bathify we carry a wide selection of wall hung vanities that are available in depths under 19" inches. Our Bliss collection of wall hung vanities by Kube Bath offers a wide range of size options as well as colours. For the most compact of spaces try our Bliss 18" Wall Mount Vanity BSL18 by Kube Bath, it comes in at just 10.5 inches in depth, making it the perfect solution for a compact space. For those looking for larger units, the Bliss 80" Double Sink Wall Mount Vanity BSL80D is the way to go. This model features 4 wide drawers to help fulfil your storage needs. If you're looking for a combination of drawers and doors, the Vanity Art 60" Single Sink Berlin Vanity VA6060  will work great for you. With a convenient divider in each door, as well as a wide drawer,  you can organize all your bathroom essentials without compromising on style.
As you decide on your drawer space, take note of any doors, including the shower, which will be regularly opened in the vicinity of the vanity. Some homeowners use a measuring tape to get a good idea of the size. Another option will be to hire a contractor that specializes in bathroom renovations to help you determine the right size of your space.
You need proper measurement to maximize space. When you know the height, depth, and width of a space, you'll have a better idea of the kind of bathroom vanity to install in your bathroom.
Your needs for a bathroom
As you prepare for a new bathroom vanity, examine your current situation, and decide what your needs are. Different people have unique reasons for installing a new vanity, like a desire to update an old-style or getting more storage.
You also need to consider the people that will regularly use the space. If you'll be sharing the bathroom with other people, you should consider getting a floating vanity with two sinks.
Storage capacity
One of the most important things to consider before choosing a bathroom vanity is storage. Regardless of size, some deigns, and styles of vanity will provide more storage than others. For instance, a floating vanity usually has less room for drawers and cabinetry below.
Therefore, if you're set on getting a floating vanity, hire a contractor to include wall-mounted cabinets in your bathroom. This is a great way of adding storage without taking up valuable space on your floor plan.
Remember that drawers and cabinets work in different ways and consume space differently. Ensure you take note of how far cabinet and drawn doors extend so that you'll not be left with drawers that don't fully open.
If you desire to have more storage, get a modern vanity that has a lot of drawers and cabinets. Also, take note of the width and height of the vanity. Go for a design that is proportional to the size of your bathroom.
Easy cleaning
Generally, bathroom vanities are easy to clean because they are wall-hung. When you give the vanity some breathing room, you'll be able to easily clean back there. Dust will not be a problem for wall-mounted vanities.
It is important to be able to easily clean your bathroom. Some professional cleaners use wall shelves and closets to keep things off surfaces to ensure that cleaning is easier. A wall-hung vanity is easy to clean from every angle, inside, outside, and even underneath.
Space saving
Just as you'll need a smaller refrigerator in a tiny kitchen space, a wall-hung vanity is simply more practical if you have a smaller bathroom. A wall-hung vanity will create an illusion that there's more space available, which is important in a small bathroom that can easily appear cluttered. Good cabinetry is sleek and adds to the feeling of spaciousness.
Modern design
Wall-hung bathroom vanities are a big modern bathroom trend, and you can easily see why. They're unexpected and come with a modern design that enhances any bathroom, particularly a modern one. There are several styles of wall-hung bathroom vanities, making it difficult to choose the one you like best. Some even have towel racks for added efficiency. There are numerous colour finishes to choose from for your wall hung vanity, including: Gloss White, Walnut, Butternut, Grey Oak, Black, Chestnut, and many more. No matter what your vision is for your renovation, you'll be sure to find a wall mount vanity that meets your needs here at Bathify.
Matching mirrors
Mirrors are one of the most important parts of wall-mount bathroom vanities; whether for practicality or aesthetic purposes. You can choose matching mirrors from simple designs (traditional bathrooms) to abstract shapes (contemporary decor) to even mirrors that have built-in lights to suit your unique needs.
Cabinet quality
Typically, the bottom of the vanity is made from solid wood, hardwood, or a budget-friendly alternative such as medium-density-fiberboard, particleboard, or plywood. Solid woods work well in bathrooms when they are sealed properly. Solid hardwoods - made from woods such as maple or oak - resist humidity better than other types of woods.
If the price of a bathroom vanity appears too good to be true and you doubt the quality, consider how thick the drawers are. They should at least be 3/8-inch thick on the bottom and sides. Also don't buy cabinets that come with a veneer finish, because they're more likely to peel as time goes by.
Bottom line
Wall-mount bathroom vanity sets mostly have a pre-attached, under-mounted sink with pre-drilled holes for the faucet. If you're unable to find the combination you need, buy items separately to create your custom bathroom vanity design.
Keep in mind that it'll be easier to install vanities if you get one that's similar to your old one. By doing this, you're sure about the position of the plumbing lines. If you've done this before, it should be easy for you. If you're not sure of the steps involved, it'll be a great idea to hire a professional to help set up your new and improved bathroom with the right vanity.